Book Description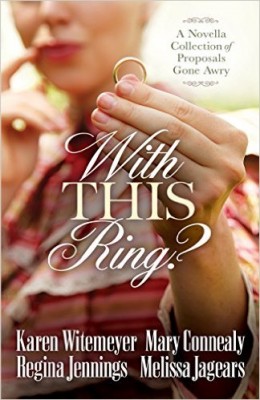 Humorous Historical Romance Novella
Collection Offers Love and Laughs
Four top historical romance novelists team up in this new collection to offer stories of love and romance with a twist of humor. In Karen Witemeyer's "The Husband Maneuver," Marietta Hawkins decides to grab the reins when the ranch foreman she loves seems to be leaving forever. Regina Jennings offers "Her Dearly Unintended," where friends stranded by a rising river pretend to be newlyweds when a dangerous stranger arrives.

Mary Connealy's "Runaway Bride" finds a Texas ranger getting more than he expected when he rescues a young woman fleeing a dangerous arranged marriage. And Melissa Jagears' "Engaging the Competition" finds a young woman forced to assist the man she's often sparred with after an accident leaves him helpless. Each tale is a fun blend of history and romance that will delight readers.
Mary Connealy, Karen Witemyer, Regina Jennings, and Melissa Jagears come together with a collection of novellas, mixing humor and romance with a dash of adventure. Is there any less to be expected by these four famous authors?
In this short story we revisit two characters from Karen Witemeyer's book "A Worthy pursuit". Daniel Barret, Or Dead-eye Dan affectionately known to those who have read the book, is ready to build his own place and his own business, but Marietta isn't ready for him to go, at least not without her as his wife.
Fear and love push Marietta into action. Trying to maneuver the quiet Daniel into a marriage proposal.
Most men will probably going

"Aha" right about now, but trust me when I saw that Marietta loved Daniel, and if you thought you'd lose someone forever you might be willing to do the same thing yourself.
It was a great pleasure to see these two beloved characters once again, and to see how their story ended. I also enjoyed reading experts from the last Dead-eye Dan book at the beginning of each chapter, what a fun treat!
This story is a coming of age story for our two characters Josiah Huckabee and Katie Ellen Watson. I wasn't quite sure what to expect, but I was pleased to find Regina Jennings in her element, as always.

Josiah, a fearless young man, wants to woo Katie Ellen, but she will have nothing to do with him. A logical, crafty, young woman Katie Ellen holds onto two years of pain caused by one small moment in time with Josiah, using it as a shield against Josiah. But things don't quite go as any of them expected, with an old man taking residence in Katie Ellen's home, and her only source of protection from the stranger is Josiah's.
I enjoyed seeing the barriers come down around Katie's heart, and that it taught me that the little details shouldn't be stressed over so much, not when it comes to the ones you love.
Runaway Bride
I have no clue how many of Mary Connealy's books are connected in this one little short story, but by the amount of names I feel I should know in here I am guessing a lot. Carrie Halsey, sister to Audra Halsey, is on the run from the fate her father forced upon her older sibling. As in most of Mary Connealy's books there are twists of romance, action, and suspense even in this short story. I won't spoil this story, but for all those Connealy fans out there I am sure they will love this quick stop on there way to the next novel.
Now, Melissa Jagears story I was a little weary of, after learning about her book "A Bride in Store" from my sister. I did expect much from this story. Gladly I was very wrong about this one.
You would never expect rivals to make a good couple, Harrison Gray thought the same. He and Charlotte used to be the best of friends, until their competiveness got in the way. Because of his impaired sight and the need to wear glasses Harrison felt he couldn't match up to Charlotte, and even the one time he felt he could best her he realized he was trying to publicly humiliate a woman. He did not want to be known as that type of man. With their friendship over Harrison didn't think he would have to deal with her again. God had other plans.
Charlotte ends up breaking his glasses, and to make up for it she helps him teach his school class.
An interesting and sweet story that will have you captivated from the first few pages.
The book was a joy to read, and though I found the lack of faith a little odd, I still would recommended it for many readers.
With laughter, struggle, and love abound many will find themselves lost for an hour or two in one of these novellas.
I give this book a 4 out of 5!
I received this book for free from the publisher's in exchange for this honest and unbiased review as part of Bethany House Review program.